2023 Taste Fest and Auction
Thank you to everyone who came to Taste Fest. The event was a lot of fun and a huge success! Proceeds will support scholarships and classroom mini-grants to enhance the education of our students.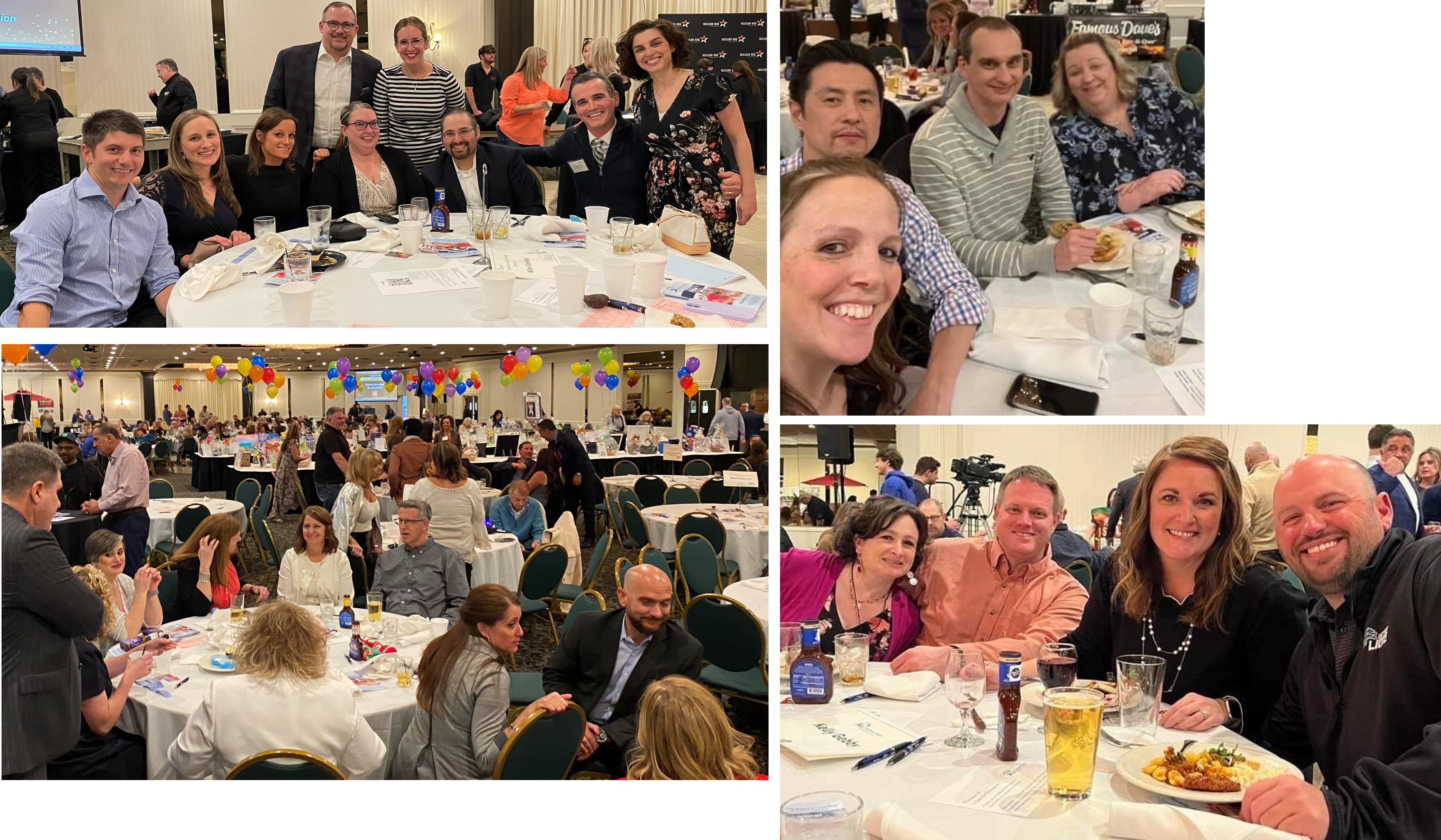 A special thank you to the following sponsors:
PLATINUM - DFCU Financial
GOLD - Wakely Associates, Inc.
SILVER - Metro Technology Service IT, Inc., T.M.R. & Assoc, Inc., York, Dolan & Tomlinson, P.C. and Anderson, Eckstein and Westrick, Inc.
BRONZE - Wakely Associates, Inc., Miller, Canfield, Paddock & Stone, PLC, Wesner Tuxedo, Duane S Gerlach & Associates, Inc., Christopher Gura, Shoreview Electric, Barton Malow, Plante Moran, America Group, Martin Kaulfuss, Ruehles Towing, Dawn Paul and Nickel & Saph, Inc.
Thank you to the 25 restaurants, caterers and markets for providing the
amazing food:

Basan Detroit, Bubba's 33, Buffalo Wild Wings, Cake Mitten Bake Shop, Carter's Cantina, Famous Dave's, Freddy's Bar & Grill, Gnocchi, Italian American Cultural Society, Jersey Mike's, Jet's Pizza, Juan Miguel's, Mission BBQ, Nino Salvaggio International Marketplace, Nothing Bundt Cakes Sterling Heights, Premier Events Center, Randazzo Fresh Market, Salsarita Fresh Mexican Grill, Sherwood Brewing Company, Sopranos Catering, The Meeting Grounds Restaurant, The Mirage Elegant Banquets & Events, Tina's Sweets, LLC, Vince and Joe's Gourmet Market and Zuccaro Banquets & Catering
Thank you to the businesses, companies and community members for the generous donations for our Grand Prize Drawing, Silent/Online Auction and Basket Raffle prizes:

Marine Division Boat Ride Macomb Twp. Fire Station Tour

A Movable Feast, Inc., A R Workshop, Angela's Italian Deli & Bakery, Aquastar Lake Cruises Muskegon, Artic Circle Brewing Co, Audacy, Barbara Karchin, Bavarian Inn, Better Made, Bianchi Salon & Spa, Big Boy, Bonobo Winery, Bounce About Rentals, Brewery Restaurant, Bubba's 33, Buffalo Wild Wings, California Pizza Kitchen, Carter's Cantina, Champagne Chocolates, Chateau Chantal,CJ Barrymore's Entertainment, Clinton Township Parks and Recreation, Collins & Blaha, P.C., Complete Interactive Technologies, Inc., Cooper's Hawk, Cranbrook Institute of Science, Crank's Bar and Grill, Crystal Mountain, Culver's, Cumulus Media Detroit, CVEA, CVHS Athletic Dept., CVS Alums Cory Gergar, Bob Raab, Tim Tomlinson, and CVS Parent Clint Fuller, Dakota Athletic Dept., Dante Rosa Home Loans, Deneweth's Garden Center, Inc., Detroit City Distillery, Detroit City Sports, Detroit Historical Society, Detroit Pistons, Detroit Red Wings, Detroit Zoological Society, DFCU, Dr. Charlene McGunn, Dr. Gregory Pine, DDS, Edge Fitness Club Shelby Twp., El Charro Restaurants, Emagine Entertainment, Inc., English Gardens, Executive Mark Hackel and Sheriff Anthony Wickersham, Famous Dave's, Fern Hill Golf Club, Filipo Marc Winery, First Watch, Fischer Garon and Hoyumpa, PLLC, Frances Chiodini, Dawn Paul, Glass Bottom Shipwreck Tours, Gnocchi Italian Restaurant, Goldfish Swim School, Grand Hotel, Grey Ghost Detroit, GRIT Obstacle Training, Grosse Pointe Theatre, Henry Ford Museum, HUB Stadium, Ike's, J Baldwin's/Testa Barra, Juan Miguel's, Jungle Java, Kirk, Huth, Lange and Badalamenti, PLC, Kristina's Catering, Lady Lena Baking Company, Lawton Ridge Winery, Learning Gizmos, LEGOLAND Discovery Center Michigan and SEA LIFE Michigan Aquarium, Leo's Coney Island, LifeSpa Shelby, Linda Yellin Art, Little River Casino Resort, Luciano's Italian Restaurant, Macomb Township Fire Chief, Macomb Township Parks and Recreation Center, MacRay Harbor, Mary Lou Gura-Sapuro, Meadow Brook Theatre Box Office, Meijer, Metro Technologies, Michigan Pedaler, Mid Michigan Children's Museum, Mirage Banquets and Catering, Mission BBQ, MJR Digital Cinema, MOD Pizza, Motor City Casino Hotel, Mount Clemens Ice Arena, New Era Chestnuts, LLC/Treeborn Inc., New Rink, New York Deli, Nino Salvagio, Noodles & Company, Nothing Bundt Cakes, Orange Leaf, Oriental Trading, Outdoor Adventure Center, Painting with a Twist, Pantry, Party Pretzels and More, Penne Lane Ristorante Italiano, Pine Mountain Timberstone Ski and Golf Resort, Pita Pit, Plates by Mr. P, Premier Entertainment, Premier Pet Supply in Shelby, Purple Rose, Ray Weigand's Nursery, Red Goose Spice Company, Redhouse Salon, Regale Craft Food & Drink, Salsarita Fresh Mexican Grill, Scoop and Twist of Macomb, Sheriff Anthony Wickersham and Macomb County Marine Division, Sherwood Brewing Company, Sieloff Studios, Studio II Salon and Spa, Suburban Ice Macomb, Sycamore Hills Golf Club, Target, Tea Party Castle, Teriaki Madness, Texas Roadhouse, Thai Delight Café Inc., The Detroit Tigers Community Impact Department, The Engine House, Thee Old Fashioned Gentlemen Coffee Shop, Toledo Mud Hens, United Shore Baseball League, Urban Air, Van Maele Florist & Greenhouse, Verona Inspired Italian, Vince and Joe's Gourmet Market, Vinny's Brunch & Lunch, Vino & Vibes Wine Bar, Vito's Bakery, Wakely Associates, Inc. / Architects, Wesner Tuxedo, Whitney, Whoa Zone, Wines for Humanity, Woodpile BBQ Shack