SCHOOL CALENDAR AND INFORMATION
Calendar

‹

January

2019

›

S
M
T
W
T
F
S
1

Jan 1

Holiday Break

Calendar:

Algonquin Calendar

2

Jan 2

Classes Resume - Full Day of School

Calendar:

Algonquin Calendar

3
4
5
6
7

Jan 7

Boys Basketball - Home vs Wyandot MS

Calendar:

Algonquin Calendar

8
9
10

Jan 10

3:30 PM to 6:00 PM

Boys Basketball - Away vs Richards Junior HS (Fraser)

Calendar:

Algonquin Calendar

11
12
13
14

Jan 14

3:30 PM to 6:00 PM

Boys Basketball - Away vs Powell MS (Romeo)

Calendar:

Algonquin Calendar

7:00 PM to 8:00 PM

PTO Meeting

Calendar:

Algonquin Calendar

15

Jan 15

School Spelling Bee

Calendar:

Algonquin Calendar

16
17

Jan 17

3:30 PM to 6:00 PM

Boys Basketball - Away vs. Endeavour MS (New Haven) ** TIME CHANGE 1/14/19

Calendar:

Algonquin Calendar

18
19
20
21

Jan 21

No School - Martin Luther King, Jr. Day

Calendar:

Algonquin Calendar

Martin Luther King, Jr. Day

22

Jan 22

3:30 PM to 6:00 PM

Boys Basketball - AWAY vs Seneca MS (changed 12/6/18)

Calendar:

Algonquin Calendar

23
24

Jan 24

3:30 PM to 6:00 PM

Boys Basketball - Home vs Iroquois MS

Calendar:

Algonquin Calendar

25

Jan 25

Early Release - Students Attend 7:56-11:05am

Calendar:

Algonquin Calendar

End of Second Quarter / First Semester

Calendar:

Algonquin Calendar

26
27
28

Jan 28

3:30 PM to 6:00 PM

Boys Basketball - Away vs Wyandot MS

Calendar:

Algonquin Calendar

29
30
31
Algonquin Middle School
19150 Briarwood Ln
Clinton Township, MI 48036
Phone: 586-723-3500
Attendance: 586-723-3599
Fax: 586-723-3501
School Hours
Full Day - 7:56am - 2:44pm NEW FOR 2018-19
Early Release Days - Please refer to the Full Year Calendar in the spotlights
Joseph Connolly - Principal
Jeff Nelson - Assistant Principal
Christianne Abbott - Counselor (A-K)
Janice McDougall - Counselor (L-Z)
Heather Blanzy - Secretary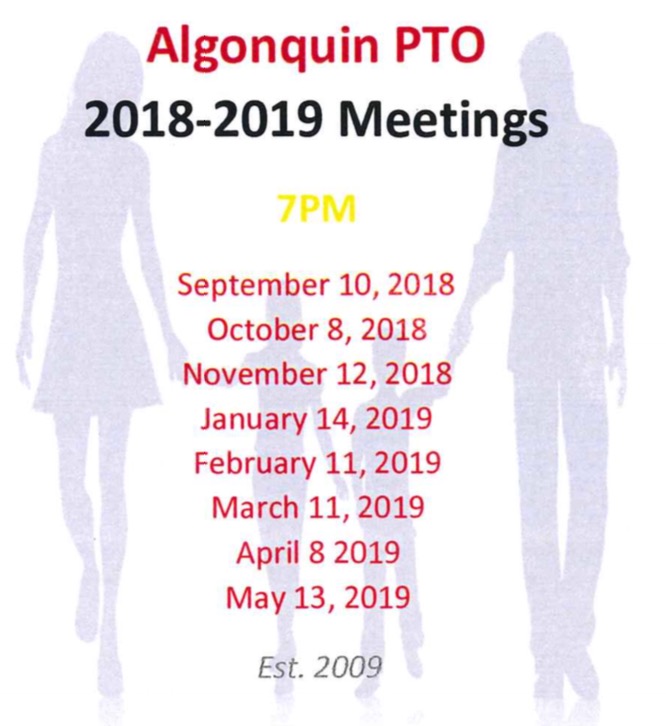 Please click on link below and complete our Parent Survey - thank you in advance for your input!

Click on logo above for the parent link to PaySchools Central - all school fees are paid online using this system district-wide. More information is available by clicking here.

Help keep Michigan Schools Safe!!!
Report safety or health concerns to Okay 2 Say - http://www.mi.gov/ok2say