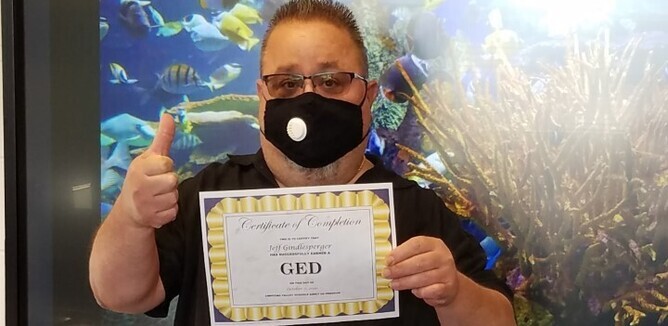 High School Completion & GED Preparation
Registration has started for our GED/HSC classes for the 2021/2022 school year. Please use the below Sign Up Genius to register for the February orientations.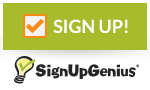 All new and returning Adult Education students MUST attend an orientation session prior to registering. If you need to schedule an orientation outside of the scheduled dates above, please call 586-723-2050 for information.
See our latest GED recipients above! Congratulations Jeff, Deewayne, Zeeshan, Tammy and Amber! WAY TO GO!
Get your high school diploma or prepare for the General Education Development (GED) Exam!
For our Program, students who turn 20 by September 1 of the current year work independently using GED Preparation and High School completion software in our state-of-the-art computer learning lab while receiving support from certified teachers. All students are required to attend an orientation and take a pre-test before beginning classes. At an orientation session, you will learn about the adult education programs available in Chippewa Valley and have an opportunity to schedule your pre-test. Click HERE for a flyer with more information.
All new and returning Adult Education students MUST attend an orientation session prior to registering. Call 586-723-2050 for more information.
A high school diploma may be closer than you think!
You may receive credits for…
Previous high school coursework
Successful work experience
Testing for credit
Contact Academic Advisor, Jacqueline Frederiksen at 586-723-2053
Chippewa Valley Adult Education
19230 Cass Avenue, Clinton Twp.
Between Romeo Plank and Heydenreich roads.

GED TEST DATES:
Resuming testing has been delayed! Check back for more information. CURRENTLY, THERE IS NO TESTING AT OUR LOCATION. You may find more informaiton about local testing at GED.com.
PLEASE NOTE:
Fall/Winter testing is on Fridays from 2:15pm-6:15pm
Dates are subject to change.
NEW:
Computerized testing through Pearson VUE .
MUST register online at GED.com
Registration and payment MUST be made online at the above website prior to testing. We do not take registrations by phone or in person.
CHECK OUT THESE GREAT REVIEWS!
"I highly recommend this program. It has changed my life on many levels. You will walk away with the confidence you will need to be successful in all you do. You will never find as loving, guiding, and dedicated teachers as you will at Chippewa Valley Schools Adult education , they are truly the best of the best!" -Tammy
"The Adult GED program helped me in so many ways! One of the things that I appreciate from the school is that they're patient and willing to help you be successful! Also, getting my GED shows my kids how important it is and needed to go to College . Thanks for the second chance! I am now starting at Macomb Community College this winter! It wouldn't have been possible without the help from the Chippewa Valley Adult Ed program! Thanks again for your help, you're the best and you changed my life forever!!!!!!!"-Deewayne