Return to the Classroom – A Hybrid Learning Model
April 8, 2021 Email to parents:
Quarantine Update for Families

Chippewa Valley Families,
Due to the increase in COVID-19 cases and the newest variants in our state, the Michigan Department of Health and Human Services (MDHHS) and our local health department have reestablished the 14-day quarantine for close contacts to a positive COVID-19 case. We are no longer able to reduce the quarantine period to 10 days.
We encourage our families to work with our COVID-19 nurses to ensure the safety and health of our students and staff. If your child or anyone in your family has COVID-19 like symptoms, please call to speak to one of our nurses.
Our district will continue to monitor the latest health data and work with the Macomb County Health Department to update our community as new information becomes available.
March 16, 2021 Email to parents:
Dear Chippewa Valley Schools Families,
We are writing to inform you of some minor schedule changes that will impact our students. Please take a look at each level and note the changes we have detailed below.
Elementary Schools
New! Elementary – March 24th –Virtual Half-Day
At the elementary level, March 24th will now be a virtual half-day to help accommodate the transportation schedule for our secondary students. The day was originally scheduled as an in-person half-day because of parent/teacher conferences but now it will be a half-day of virtual instruction.
There will be no changes for Elementary CVVA students. The day remains a half-day of school.
SACC will not be available on March 24th.
Middle Schools
The Middle School Day - March 22 – April 16
New dismissal time! 7:58 am – 1: 00 pm (Support period 1:50 pm – 2:42 pm)
Beginning on March 22, we are adding 12 additional minutes to each school day to comply with recent statewide legislation for schools. These minutes will be spread out among each class period. This new requirement was adopted by the state after CVS instituted our return to school plan.
Students enrolled in the CVVA will follow the same schedule as their in-person counterparts.
High Schools
The High School Day – March 22 – April 16
New dismissal time! 7:15 am – 12:16 pm (Support period 1:16 pm – 2:11 pm)

On March 22, we will add 6 minutes to each instructional day at the high school level. These minutes will be added to each class period per requirements from the state.
Students enrolled in the CVVA will follow the same schedule as their in-person counterparts.
The week of April 12th- The schedule will look different at the high school level, where three grades are scheduled to take PSAT or SAT and the 11th graders will also take the ACT WorkKeys. Eighth graders are scheduled to take the PSAT on April 13th. We are still awaiting further guidance and clarification from the state of Michigan. We will send out the final schedule for the week once we have all the information possible.
Thank you for your continued support during this time of transition to in-person learning. On April 19th, all students will return to a traditional full-time schedule. We apologize if these necessary schedule changes pose any inconvenience for our families. If you have any questions, please don't hesitate to reach out to your child's school.

March 3, 2021
New Student Schedules Increase Face-to-Face Learning
Students to attend four days per week until April 19th when they will return to full-time, five days per week.
The safety of our students, staff, and school community has always been our top priority. With COVID-19 declining in our school community and the increase of available vaccines, we are pleased to announce that all Chippewa Valley students will return to school four days a week this month with an increase to five days, full-time, on April 19. This two-phased approach was carefully planned to ensure the continuation of our safety protocols. Students will be spaced as far apart as possible for social distancing and, when possible, will face in the same direction. CVS employs two full-time registered nurses who work directly with the Macomb County Health Department on COVID-related issues and guide the district when the need for quarantines arise.
For parents that are thinking ahead to the fall, we plan to have all students back full-time, five days a week in September. A survey will be sent out for those seeking a virtual option for next year.
No school for K-12, K-12 CLP, K-12 CVVA, and ECSE
March 8 – School Planning Day
March 9 – Professional Development Day
Elementary Student Schedules, Including CLP and ECSE
March 10 - April 16 – Elementary students begin traditional schedule four days a week (Monday-Thursday), with four remote Fridays (March 12, 19, 26, and April 16). Students will attend school based on their regular bell schedules. (Early start schools - 8:33 am – 3:14 pm, Late start schools - 9:00 am – 3:44 pm).
Breakfast and lunch will be available to students. When fully staffed SACC will be available. Individual school buildings will communicate specific details with their families.
Elementary CVVA students will continue to learn virtually under the same schedule except for the previously mentioned remote Fridays. On those days, CVVA students will follow their building and teacher schedule.
GSRP and Little Turtle Preschool will continue to follow the same schedule.
April 19 – June 15 - All CVS elementary students will attend school full-time, five days per week, in a traditional schedule.
Secondary Student Schedules
March 15 – April 16 – Middle and high school students will begin a 4-day in-person schedule (Monday – Thursday) with a shortened day and three remote Fridays (March 19, 26 and April 16).
High school students will attend school from 7:15 am – 12:10 pm, attending six 45-minute class periods every day, with three remote Fridays. High school students will also be able to take advantage of dedicated online teacher support from 1:00 pm – 2:11 pm every day. (The high school schedule may have further adjustments during the week of April 12-16 due to the administration of SAT, ACT, and PSAT testing. Schedule changes are common for administration of these tests. Parents will receive information from their high school.)
Middle school students will attend school from 7:58 am – 12:48 pm, attending all classes, with remote Fridays. Middle school students will have online teacher support hours from 1:38 pm – 2:42 pm each day.
Daily online teacher support hours are designed with our secondary students in mind. Students who may need additional support in a subject area, or are required to quarantine because of COVID-19 exposure, can log in to TEAMS to meet with their teachers.
Secondary CVVA student schedules will be adjusted to mirror the secondary in-person schedules because of teachers who are assigned to teach in both programs. Secondary CLP students will have the same schedule as in-person learning.
April 19 – June 15 - All CVS secondary students (middle and high school) will attend school full-time, five days per week, in a traditional model. CVVA and CLP students will follow the same schedule.
Middle and High School Grab & Go Lunches

Breakfast and lunch will be available. To reduce the number of secondary students gathering in our lunchrooms we will offer middle and high school students opportunities for snack time during their classes and free prepared lunches that can be picked up and taken home. Lunches will be served Grab & Go style until the week of April 19 when in-school lunch hours will resume.
Middle and High School Transportation

Transportation times in the afternoon for secondary students will change temporarily during our 4-day schedule. Information on route numbers and times will be available on our Transportation ELink.
Safety Precautions and Masks
All students attending school in-person are required to wear a cloth mask covering their nose and mouth at all times, with the exception of snack time or lunch. (Only students with a district-approved medical mask waiver are exempt). Masks are available in every school should a student need them. Specific directions for arrivals and dismissals determined by your school must be followed. CVS will ensure proper cleaning and sanitization protocols are followed. Our Return to School Guidelines are available on our website and are continually updated with the latest CDC and MDHHS requirements for schools.
We appreciate the support of our parents during this time. We are very excited to be welcoming our students back to the classroom for more in-person learning. Watch for more specific details from your child's school on Monday.
Thank you.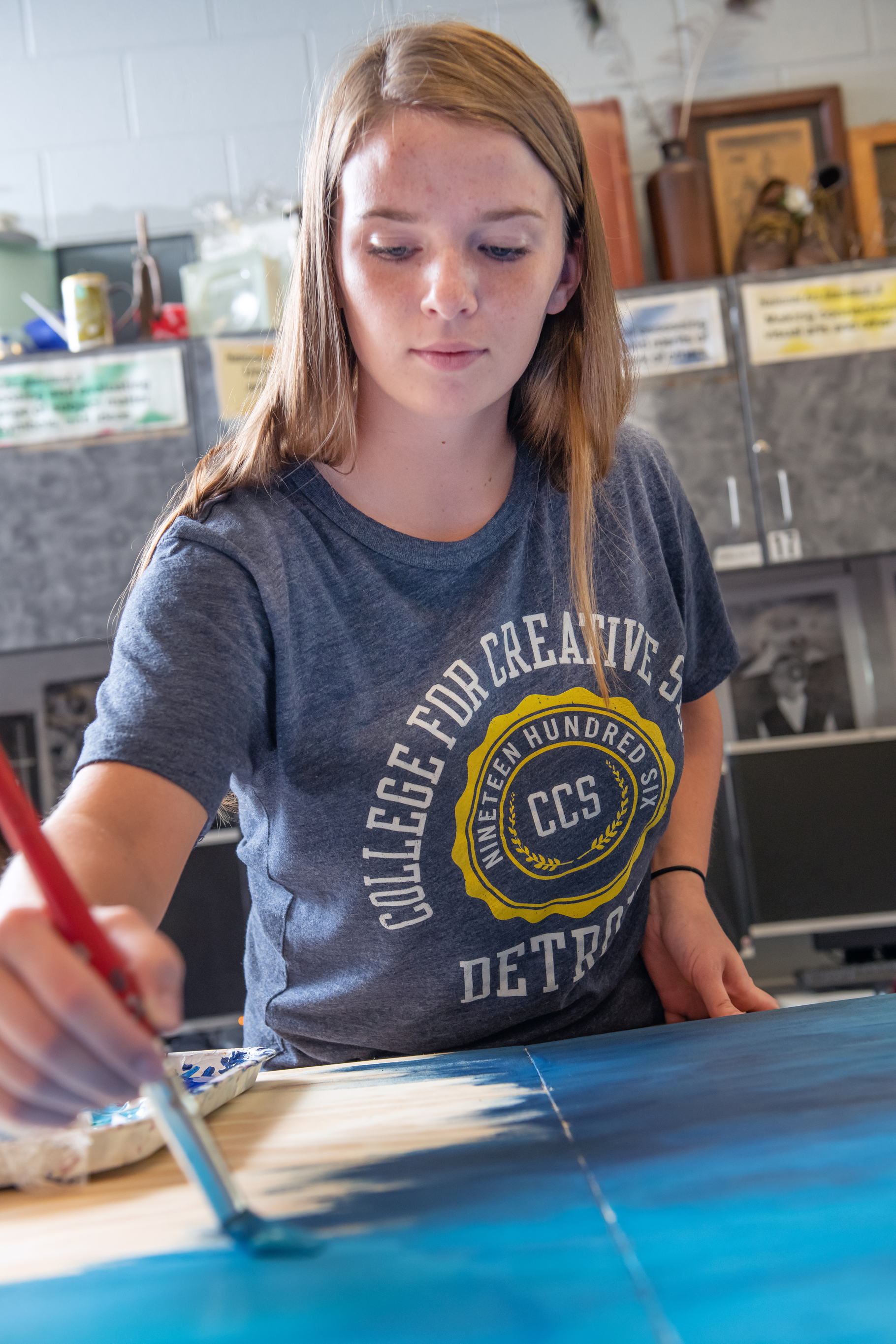 December ACT Testing at Oakland U. Canceled - Dec. 9, 2020
Remote Learning Reminders - Nov. 19, 2020
CVS to temporarily return to remote learning
- Nov. 16, 2020
ELink changes for transportation students - Nov. 12, 2020
Middle School Schedule Change
- Nov. 3, 2020
Administration and Board of Education Make Tough Decision to Pause Reopening Middle and High Schools - Nov. 3, 2020
CVS Extended COVID-19 Learning Plan for the 2020-2021 School Year
Welcome Back Elementary Parents!
Parent Tech Night Video:
https://youtu.be/Ye5NbiOuVPw

Parent Tech Night Presentation
CVS Covid-19 Preparedness and Response Plan
CVS to Begin the School Year with Remote Learning - August 10, 2020
TOWN HALL Return to School Presentation - August 5, 2020
Virtual Town Hall August 5, 2020 - Video
Return to School Fall 2020 Board of Education Workshop - Aug. 3, 2020
Chippewa Valley Virtual Academy
A message from the Superintendent
-Video
Newsletter - Return to School Update
- July 31, 2020
Return to School Update - July 21, 2020