Teacher Homework Assignment Table
This is an example of a table that can be created for homework assignments.

3 Steps to Create the Table
Step 1
Right click in the editor where you want the table and select Insert a New Table. Fill out the table information as shown here.
Set Columns to 5 (or number you need)
Set Rows to 4 (or number you need)
Set Width to 623.
Set Class to table_cellpadding_2px
Select Insert.
This is what you will see.

Step 2a
Right click in the table and select Table Cell Properties.
Select Update all cells in table from the drop list just above the UPDATE button.
Set the cell width to 124 (or 620÷number of columns and round down)
Set cell alignment to Left (or what you need)
Step 2b

Select the ADVANCED tab
Pick the border color using the color picker icon.
Select Update.
The table won't look any different until you do Step 3.
Step 3
Right click in the table and select Table Properties.
Change the Border from 0 to 1
Select Update.
Now the table will display with borders around each cell and each cell will be the same width. You can click in each cell to add your text.

Screen Shots
Step 1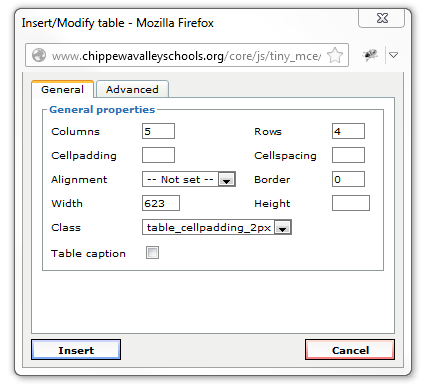 Step 2a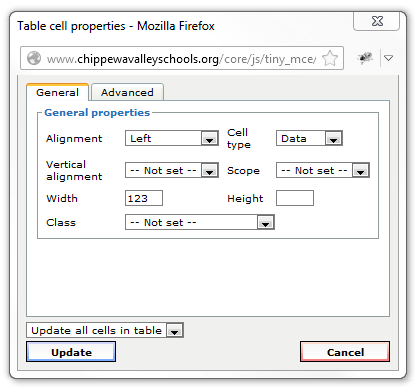 Step 2b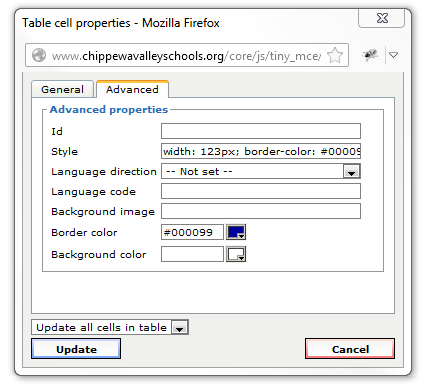 Step 3