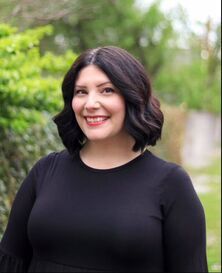 Tammy pursued a degree in music education so she could combine her two passions: music and education. She feels that there is nothing more beautiful than a group of individuals uniting their voices in harmony to create something bigger than themselves. Choir is one instance in life, where a group of people are all focusing on the same goal.
Tammy Palazzolo has her bachelor's degree in Vocal Music Education from Wayne State University. She has experience teaching all grade-levels but found her home teaching middle school choir in Chippewa Valley School district here at Wyandot Middle School. Tammy directs three-grade level choirs totaling over 160 students! She also is a co-founder and assistant director of a non profit young women's choir based out of Grosse Pointe called One Voice.
Under the direction of Mrs. Pal, the Wyandot Middle School Choirs have received all division 1 ratings at MSVMA District Choral Festival including the invitation to participate at the state level.