You Asked, We Answered
Q. What is a bond proposal?
A. A bond proposal asks voters to approve the sale of bonds to provide funds for building improvements, construction, and equipment purchases. Chippewa Valley is requesting voter approval to fund...
Algonquin Middle School science room addition.
Community Education Center/Mohegan High School classroom/multipurpose addition.
Dakota High School multi-purpose/physics classroom addition.
Iroquois Middle School auxiliary gymnasium addition.
School safety - Installation of new surveillance systems and security cameras in all school buildings. Fire alarm panel upgrades.
Replacement of school buses.
Replacement of outdated computers, furniture, and equipment.
Upgrades to computer servers and telephone lines.
New, interactive classroom technology for every school.
Replacement of outdated lighting systems with new energy efficient ones. Motion sensors and auto-shut off systems designed to save on utility costs.
Student enhancements like athletic field improvements and new playground equipment.
Q. Who decided we needed the bond election?
A. For more than a year, district administrators, demographic consultants, building professionals, school staff, and the Chippewa Valley Board of Education have studied student enrollment projections, the long term needs of our school buildings, and best practices in education. Proposed projects underwent a rigorous review process before being added to the district-wide bond proposal that was submitted to the state for approval.
Q. Why do we need the proposed bond issue?
A. Chippewa Valley remains one of the few Michigan school districts still experiencing enrollment growth. This year we gained more than 230 new students and professional demographers have projected that we will gain 1,200 more students over the next four years. Although we do not need to build additional schools to accommodate this growth we need to make improvements and renovations to our schools to better utilize our existing space and to prolong the life of our schools. This bond proposal will allow us to replace outdated instructional technology to provide our students with the best educational resources available. Keeping our students safe is our number one priority. The addition of improved security systems and new buses are important components of this bond issue. Quality schools with adequate space and updated facilities will protect property values. Prospective homebuyers want a community with good public schools. Current homeowners want to maintain the level of excellence in programs and facilities that they have come to expect from Chippewa Valley Schools.
Q. When is the date of the proposed bond election?
A. The election will be held on Tuesday, February 23, 2010. The last day to register to vote is January 25, 2010. Applications for voter registration and absentee ballots can be found on our website, www.chippewavalleyschools.org. Go to 2010 Bond Issue. If the February election is successful, we can begin some of the most crucial projects in the spring. During the summer work crews can have greater access to our school buildings that are not in use.
Q. Will the proposed 2010 Bond Issue increase my taxes?
A. No. If approved on February 23, there will be no increase in property taxes for the residents of our community. By approving the bond, residents are simply allowing the district to extend its current bond indebtedness by five years (from 2026 to 2031). Residents will continue to pay the same 7.65 debt mills they have been paying since 1979. A vote against the proposal will not lower your property taxes.
Q. Did an outside agency verify Chippewa Valley Schools' need for a bond issue?
A. Yes. The Michigan Department of Treasury reviews and qualifies the need for the district's bond projects. School districts must submit detailed bond applications to the state where they undergo a comprehensive 30-day review process. According to state law, bond proceeds must be audited.
Q. How will the proposed bond monies be used?
A. Here is a look at how the proposed 2010 bond monies would be spent: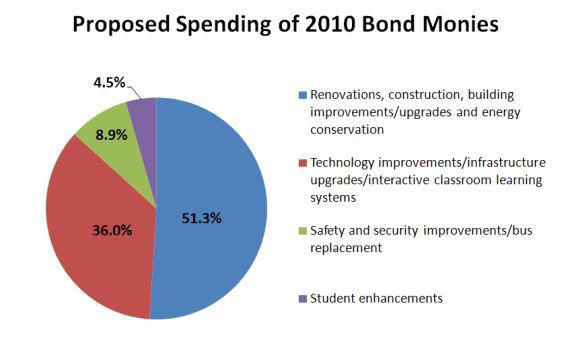 Q. Our last bond issue was in 2004, why do we need another bond issue now?
A. Our enrollment has increased substantially during the last 5 years. In 2004 when the bond was passed, Chippewa Valley had 14,300 students. Today we have almost 16,000 students. New interactive technologies have been developed that dramatically improve student learning, and graduation requirements and state benchmarks have become even more rigorous. This bond proposal will provide us with the resources necessary to provide our students with the latest in instructional technology, keep our school buildings up-to-date, and improve safety, while accommodating our growing student population.
Q. Are all of the determined building needs in the bond issue?
A. No. The main focus of the 2010 bond proposal was to focus on four major areas. They are Facility and Energy Improvements, Instructional Technology, Safety and Security, and Student Enhancements. Administrators took a "needs only" approach in the planning stages. Only those needs determined by school officials as top priorities in our strategic planning are included in the proposed bond projects. Lower priority projects are not included because the amount of money needed to finance all of the projects was too great.
Q. Will the bond money be used to pay for staff salaries or day-to-day expenses?
A. No. Bond money cannot be used to pay for salaries, benefits, or school operational costs.
Q. What is the difference between general fund (operations) dollars and bond (capital project) funds?
A. General fund dollars are used for the day-to-day operations of the district. All revenue received for the operation of the district and all expenditures related to the operation of the district are recorded in the general fund. Operating revenue from local, state, federal, and other sources are part of the general fund. Primary types of revenue are property tax, state aid, federal grants, and fees. Operating expenses include things like classroom instruction, support services, and community services, wages, benefits, purchased services, maintenance, supplies, and materials. A capital projects fund is established when voters approve issuance of bonds for acquisition of capital assets. The ballot language specifies the purposes for which the bond proceeds may be used. Allowable uses include the purchase and development of sites; erecting, furnishing and equipping new buildings or building additions; remodeling, refurnishing, and reequipping existing buildings; purchasing educational technology improvements; acquiring school buses; developing and improving playgrounds, playfields, athletic fields and facilities and sites. In a particular bond issue only those types of items identified in the ballot language may be acquired with the bond proceeds. If capital improvement funds are not available our district will be forced to use general fund dollars- the budget that funds basic classroom instruction-on things like bus replacements and building improvements. This will create an even greater strain on a budget that has already been dramatically reduced. Pursuant to State law, expenditures of bond proceeds must be audited, and the proceeds cannot be used for repair or maintenance costs, teacher, administrator or employee salaries, or other operating costs.
Q. Where do residents vote?
A. Voters are advised to check their voter registration cards to determine their correct voting precinct, or go to http://www.publius.org. Polls are open from 7 am to 8 pm.
Q. Why is the election being held in February?
A. In accordance with Michigan law elections are held four times a year (February, May, August, and November). Chippewa Valley Schools received approval for our bond proposal from the Michigan Department of Treasury in December 2009. The next available election date was February 23rd. If the district had waited to hold the election many projects would have been delayed more than 12 months since most bond projects must be completed when students are not in session and schools are closed for the summer. Also, project costs would be higher and interest rates would not be as favorable as they are today.
Q. What happens when we use bond funds to pay for computers versus building projects?
A. Chippewa Valley participates in the Michigan School Bond Loan Fund which assigns a "useable life" to bond purchases. For example desktop computers and servers are considered to have a shorter useable life span than building projects and classroom renovations. So it is important to know that school bonds are paid back in stages with the usable life of equipment taken into consideration in the overall plan.
Q. If we purchase more buses does that mean we are adding additional transportation services?
A. No, additional buses will be needed to replace older buses with high mileage. The bond proposal will help us maintain a 10-12 year replacement schedule for our current fleet. This replacement schedule will ensure that we have adequate buses to accommodate the needs of our school district.
Bonding Proposal Ballot Language
Shall Chippewa Valley Schools, Macomb County, Michigan, borrow the sum of not to exceed Eighty-Nine Million Seven Hundred Sixty-Five Thousand Dollars ($89,765,000) and issue its general obligation unlimited tax bonds therefor, for the purpose of: partially remodeling, refurnishing and re-equipping and erecting, furnishing and equipping additions to school district buildings; acquiring and installing educational technology system improvements; acquiring school buses; and developing and improving sites, athletic fields and facilities, playfields and playgrounds? YES NO
Got a question? We'll get you the answer!
If you have any questions regarding this 2010 bond proposal please don't hesitate to ask us. You can reach us by logging on to our website: www.chippewavalleyschools.org. Send us an email by clicking on the "Contact" button or by calling us at 1-586-723-2240.