2013 - 2014 Workshops:
Our workshops are activities that recognize and support the unique cultural and educational needs of Indian children and incorporate qualified tribal elders and seniors. They are held four times per year at Cheyenne Elementary School, 47600 Heydenreich Rd., Macomb, MI.
Our workshops for this year are:
Saturday, January 11, 2014 Medicine Bags
Saturday, February 15, 2014 Weaving
Saturday, March 15, 2014 Sand Painting
Saturday, April 26, 2014 God's Eye (Ojo de Dios)

Space is limited - Call 586-723-2031 to register
~~~~~~~~~~~~~~~~~~~~~~~~~~~~~~~~~~~~~~~~~~~~~~~~~~~~~~~~~~~~~~~~~~~~~~~~
MEDICINE BAG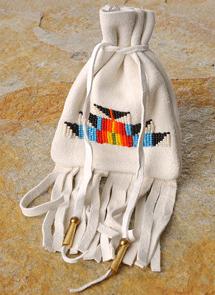 The sacred medicine bundle is the most holy of holies among all the Native American First People of the plains and most of the woodland and mountain tribes. A medicine bundle is a wrapped package used by Native Americans for religious purposes. A package of this type may also be referred to as a medicine bag. Medicine bundles are usually employed as a ritual aid in the observance of their religions. The bundles are opened on specific occasions, and according to precise ritual. Each bundle contains a varied collection of objects and representations of spiritual significance, from animal skins and effigies to ceremonial pipes.
Most medicine bundles have been passed down from one keeper to another over such a long span of time that their origins have become shrouded in mystery and myth.
Information from: http://www.barefootsworld.net/sacred_bundle.html
~~~~~~~~~~~~~~~~~~~~~~~~~~~~~~~~~~~~~~~~~~~~~~~~~~~~~~~~~~~~~~~~~~~~~~~~~~~~~~~~~~
Bisti Navajo Rug Weaving - Circa 1930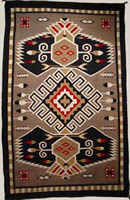 There is an ageless beauty to Navajo weaving. Navajo weavings are many things to people. Above all else, Navajo weavings are masterworks, regardless of whose criteria of art is used to judge them. They are evocative, timeless portraits which, like all good art, transcend time and space. Navajo weaving has captured the imagination of many not only because they are beautiful, well-woven textiles but also because they so accurately mirror the social and economic history of Navajo people. Succinctly, Navajo women wove their life experiences into the pieces.
Navajo people tell us they learned to weave from Spider Woman and that the first loom was of sky and earth cords, with weaving tools of sunlight, lightning, white shell, and crystal. Anthropologists speculate Navajos learned to weave from Pueblo people by 1650.
Information from: http://www.camerontradingpost.com/navajo-weaving.html

Photos
~~~~~~~~~~~~~~~~~~~~~~~~~~~~~~~~~~~~~~~~~~~~~~~~~~~~~~~~~~~~~~~~~~~~~~~~~~~~~~~~~~~
Sand Painting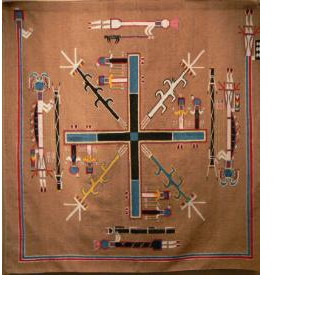 For the Navajo, each design element in a sand painting imparts meaning for the sacred ceremony performed to honor the gods. The soft and subtle color of the sands and ground minerals, the infinite variety in the repetition of the lines, the abstract conception of the figures of the gods and transport the observer into a strange new world of beauty.
Navajo sand paintings are made in the mornings and early afternoons of the last days of a ceremony lead by the medicine man and his helpers. When the painting is finished black lines about a foot long are placed all over it to represent the power of the gods. Corn pollen, the emblem of fertility and strength of the Navajo people is also placed all over the painting at various points. Prayer feather wands are stuck in the enclosing lines. Then, the sand painting is destroyed.
Information from: http://nativeamerican-art.com/navajo-sandpainting.html

Photos
To Contact Us:
Chippewa Valley Schools
Administration Building
19120 Cass Avenue
Clinton Township
MI 48038
Maria Chisholm
Facilitator of the Indian Education Grant Program
Ph: 586-723-2031
Cell: 586-615-1279
Fax: 586-723-2021
Email:
mchisholm@cvs.k12.mi.us
---
Last updated 3/27/2014