Color Ojibwa "Green"
Congratulations! Ojibwa has earned "Michigan Green School Status" again.
Click here for Macomb Patch article on Macomb Green Schools . . .
Nature Center
Waste-free Lunch
Eco System Model
Recycling
Click here for the Ojibwa 2012 Green School Status Application Photo Gallery.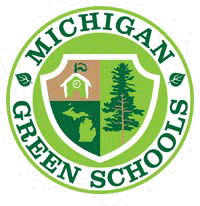 Ojibwa Earns Michigan Green School Status:
Ojibwa once again has earned Michigan Green School status for the 2011-2012 school year. Ojibwa's Eco-Team has been working for the last 12 months to fulfill all of the requirements needed to earn this special honor.
Schools were required to meet at least 10 "Green" criteria to become a Green School. Ojibwa completed an overwhelming 22 tasks earning the school "Emerald" status, the second highest level of Michigan Green School status obtainable.
Here are just a few of the Green activities happening this year at Ojibwa:The Eco-Team has been recycling paper, cardboard and plastic water bottles with Ms. Strizic; A Bird Habitat is maintained in the Ojibwa Courtyard; Eco Team created a reusable water bottle to eliminate throw away plastic bottles at school events; Ojibwa symbolically adopted endangered wildlife through the WWF.
Congratulations to the Ojibwa School Eco-Team for this wonderful accomplishment! Thanks to Caitlin Harrison, Heather Paglia, Mary Jo Strizic, Mary Thompson, and John Rose for their efforts in helping Ojibwa succeed.