2016 – 2017 Workshops
Our workshops are activities that recognize and support the unique cultural and educational needs of Indian children and incorporate qualified tribal elders and seniors. They will be held three times per year at Cheyenne Elementary School, 47600 Heydenreich Rd., Macomb, MI 48044
Our workshops for this school year are:
Due to a shortage of materials we have rescheduled the Drums for March 18, 2017 workshop.
Saturday, December 10, 2016 Drums Dream Catchers
Saturday, January 28, 2017 Moccasins
Saturday, March 18, 2017 Drums.
We have two sessions
9:00 am - 11:30 am
12:30 pm - 3:00 pm.
Please call Maria Chisholm at 586-723-2031 or email me at mchisholm@cvs.k12.mi.us to register.
Dream Catchers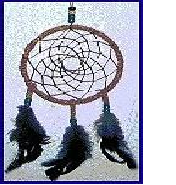 Dream catchers originated with the Chippewa but other tribes have adopted the custom. Small dream catchers were hung on cradleboards so infants would have good dreams. Other sizes were hung in lodges so all would have good dreams. Good dreams pass through the hole in the center while bad dreams are caught in the web and are destroyed by the morning light.
~~~~~~~~~~~~~~~~~~~~~~~~~~~~~~~~~~~~~~~~~~~~~~~~~~~~~~~~~
~~~~~~~~~~~~~~~~~~~~~~~~~~~~~~~~~~~~~~~~~~~~~~~~~~~~~~~~~
Moccasins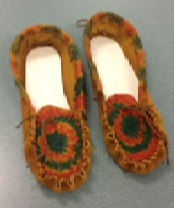 Our January workshop was a great success! Students and their families learned about the history of moccasins and got a chance to make and decorate a pair of their own moccasins! All American Indian moccasins were originally made of soft leather stitched togetehr with sinew. Moccasin patterns were subtly different in nearly every tribe, and Indian people could often tell each other's tribal affiliation simply from the design of their shoes. In some tribes hardened rawhide was used for the sole for added durability, and in others rabbit fur was used to line the leather moccasins for added warmth. For more information on moccasins, please check out the links below:
http://www.native-languages.org
http://www.ilhawaii.net/~stony/lore71.html
http://www.marieshoes.com/page/766719